Upcoming Allen Arts Events
Allen Civic Ballet
"The Nutcracker"
December 17 & 18, 2022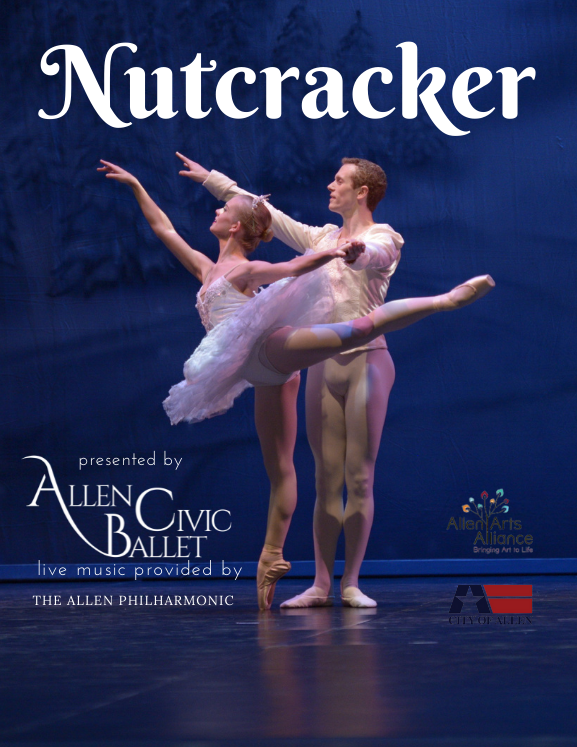 At the Performing Arts Center at Allen High School: 300 Rivercrest Blvd, Allen, TX
Ticket sales open November 2022
Allen Contemporary Theatre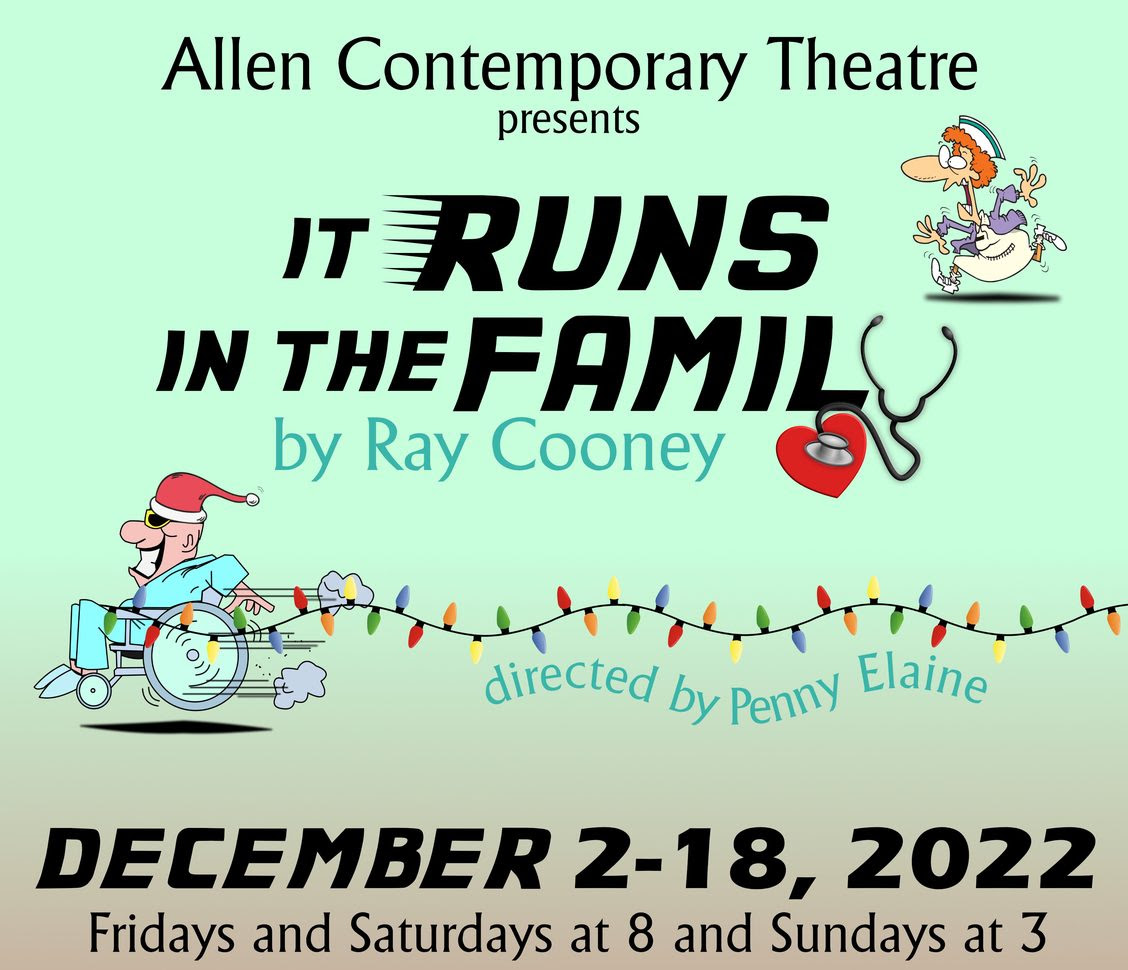 Allen Heritage Guild
December 4th–Allen Christmas Parade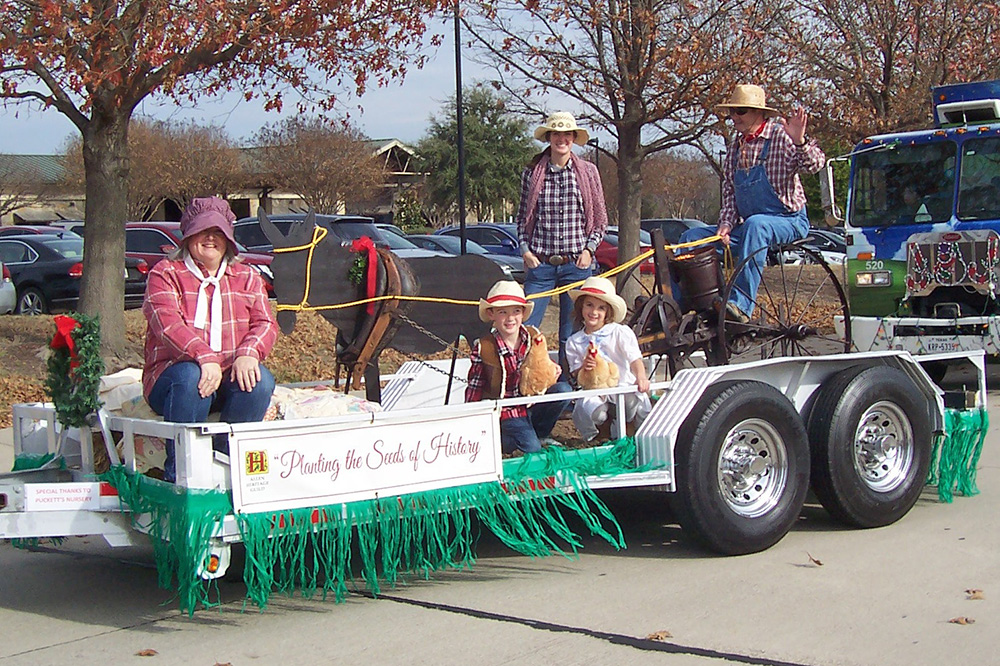 December 11th–Allen Heritage Village Christmas Open House 2:00-4:00pm
352 St. Mary Dr. Allen, TX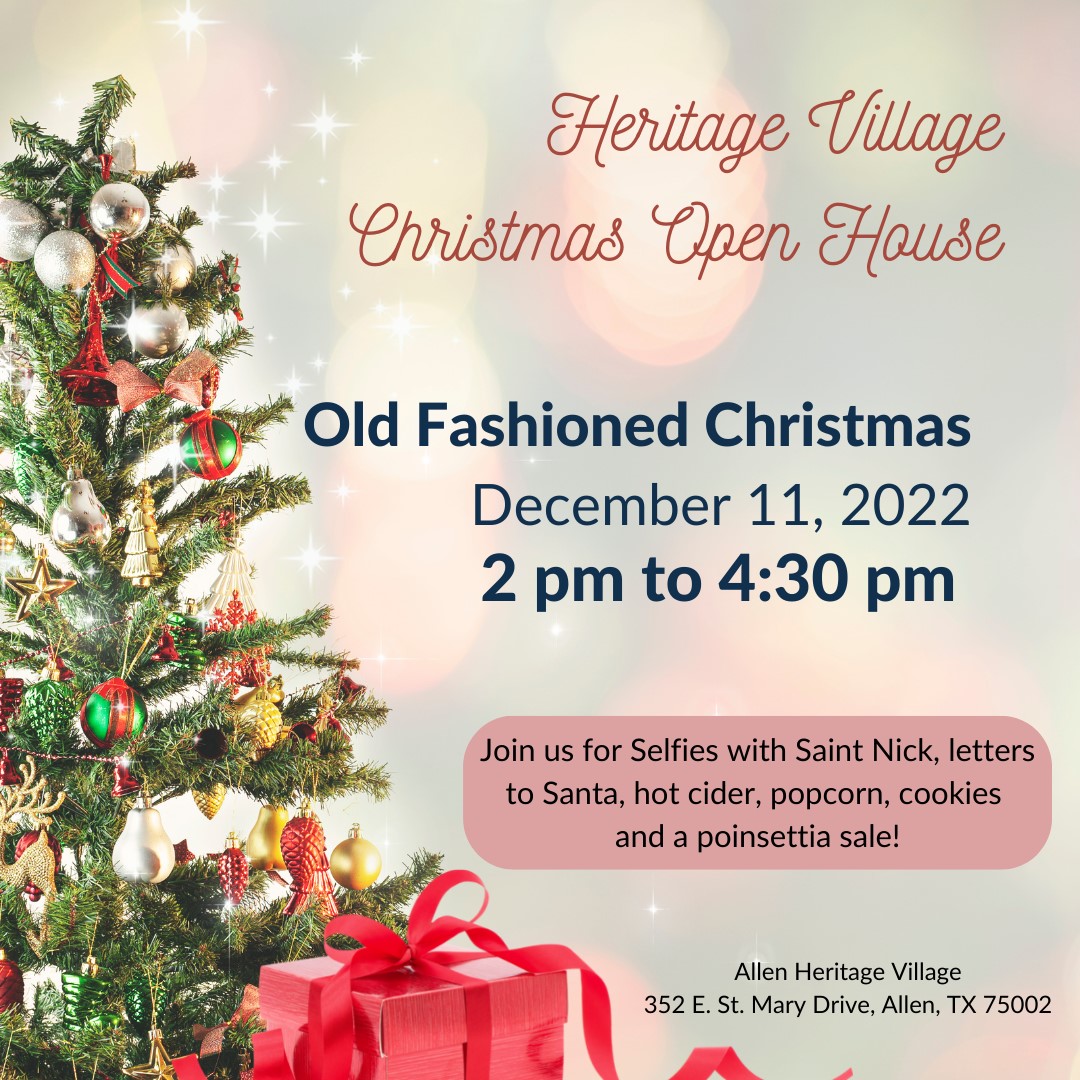 Allen Philharmonic and Symphony Chorus
Celebrating Our Communities Culture
Saturday, October 29, 2022 – 2:000 pm to 6 pm.
Allen ISD STEAM Center, 1680 Ridgeview Dr, Allen, TX 75013
The Allen Philharmonic Orchestra and Symphony Chorus is part of the STEAM Fall Fest and Market for the North Texas community this year. This event features fall themed activities for families, student performers, a Farmers Market, and goods and crafts will be available for purchase from a variety of vendors. Come and join us for this afternoon of fun for the whole community!!
From Darkness to Light
Friday, December 2, 2022 – 7:30 pm
First United Methodist Church Allen, 601 S Greenville Ave, Allen
Allen Tuba Christmas
December 10, 2022 – Watters Creek Village, 970 Garden Park Drive, Allen
Registration: 12:00 pm, Rehearsal: 1:00 pm, Performance: 2:30 pm
The Allen Philharmonic welcomes area tuba, sousaphone, euphonium, or baritone horn players of all ages to join us for the MERRY TUBACHRISTMAS Concert in Allen Texas. TUBACHRISTMAS was conceived in 1974 by the late Harvey Phillips as a tribute to his teacher and mentor William J. Bell, born on Christmas Day, 1902. "Bill" Bell is recognized by all musicians as one of the most preeminent tuba players throughout the world. The concert is free of charge and open to the public and is presented in conjunction with the Harvey Phillips Foundation. Come enjoy the spirit of the season with this annual musical celebration.
The Nutcracker
Saturday, December 17, 2022 – 7:00 pm,  and Sunday, December 18, 2022 – 2:00 pm
Allen High School Performing Arts Center, 300 Rivercrest Blvd., Allen
Join the Allen Civic Ballet as they present Tchaikovsky's holiday classic "The Nutcracker," with live music by the Allen Philharmonic Orchestra! The evening begins with a spectacular night of merriment with family and friends. Then Clara's toy nutcracker comes alive! After defeating the evil Mouse Queen in battle, he whisks her away to the magical Land of Sweets. Upon their arrival, they are greeted by the Sugar Plum Fairy who presents every imaginable confection. Enjoy the dances of the Snow Queen and her prince, the Arabian Queen and her handmaidens, the Spanish Chocolate and many more. It will truly be a night to remember!
The Wonderful Wizardry of Harry Potter
Saturday, January 14, 2023 – 7:30 pm
Lowery Auditorium, 368 N Greenville Ave, Allen
Join the Allen Philharmonic Orchestra as we celebrate the 25th Anniversary of JK Rowling's' first Harry Potter book! The evening will feature a family friendly collection of music inspired by wizards, witches, and magic!  Highlights include music from the Harry Potter movies, the Wizard of Oz, Lord of the Rings, and the Chronicles of Narnia, as well as favorite classical works like The Sorcerer's Apprentice and The Firebird.
Lunar New Year Celebration
Sunday, January 29, 2023 – 2:00 pm – 6:00 pm
Watters Creek Village, 970 Garden Park Drive, Allen
More information coming…
East Meets West
Saturday, February 18, 2023 – 7:30 pm
Allen High School Performing Arts Center, 300 Rivercrest Blvd. Allen
Celebrate a fusion of Indian and Western culture as the Allen Philharmonic Orchestra presents "East Meets West."  Joined by dancers from the Nrityajyoti Dance Academy choreographed by Rinku Bhattacharya Das, as well as sitar, tabla, and vocal soloists, the orchestra will present a night of music that seamlessly melds performances from the traditions of Indian and Western classical and popular music. You'll hear music ranging from Bollywood to Tchaikovsky, as well as a number of works by Indian American composers prominent in the field today!
Songs of the Sea
Tuesday, February 28, 2023
Symphony Chorus Choral Program
More information coming…
Out Of This World
Sunday, March 19, 2023 – Pre-concert activities 2 pm, Concert 3 pm
Allen Public Library, 300 N Allen Dr, Allen
Join the Allen Philharmonic Orchestra at the Allen Public Library for our spring "Concerts for Young Audiences!"  This time, the orchestra will be presenting a casual, family-friendly program of music inspired by space!  Audiences young and old will hear music from Star Wars, Star Trek as well as selections from space-inspired classical works like Gustav Holst's "The Planets."  The highlight of the afternoon will be the world premiere of composer David MacDonald's new work for children's audiences titled "What. On Earth. Was That?" about an alien who finds his way to Earth and can only communicate through music!  Bring a friend or family member for this fun and free offering at the Allen Public Library!
Calling All Dawns
Saturday, April 15, 2023 – 7:30 pm
Lowery Auditorium, 368 N Greenville Ave, Allen
Join us in April as the Allen Philharmonic combines forces with the Allen Symphony Chorus.  The keystone work of the evening will be Christopher Tin's world-music inspired work for choir and orchestra titled "Calling All Dawns," which includes music that is prominently featured in the Civilization VI video game.  We're also pleased to present our principal flautist Jennifer McElroy as she plays the exciting Malcolm Arnold Flute Concerto, as well as Debussy's dreamy "Prelude to the Afternoon of a Faun" and Jessie Montgomery's brand new work, "Overture," which is "steeped in harmonic textures inspired by a fusion between jazz and American classical harmonies, Baroque rhythmic gestures, and polyphonic tension."
Choral Review Program
Tuesday, April 25, 2023
Heritage Ranch & Golf Country Club, 465 Scenic Ranch Cir, Fairview
More information coming…
Patriotic Salute
Friday, June 30, 2023 – 7:00 pm
Watters Creek Village, 970 Garden Park Drive, Allen
Celebrate Independence Day at Watters Creek with a free program as the Allen Philharmonic Winds presents a Patriotic Salute! Enjoy a lively mixture of marches and classic Americana melodies. Crafts for children will be on property. Come meet multiple Military Support Groups who will be in attendance.
Note-Ably North Texas Chorus
Cocoa, Cookies & Carols
December 10th at 2:00pm
Blue House Too Art Gallery, 988 Village Green Drive, Allen, TX
Legacy of Harmony Chorus collaboration concert
St. Mark Catholic School (cafetorium)
1202 Alma Drive, Plano TX
Visual Arts League of Allen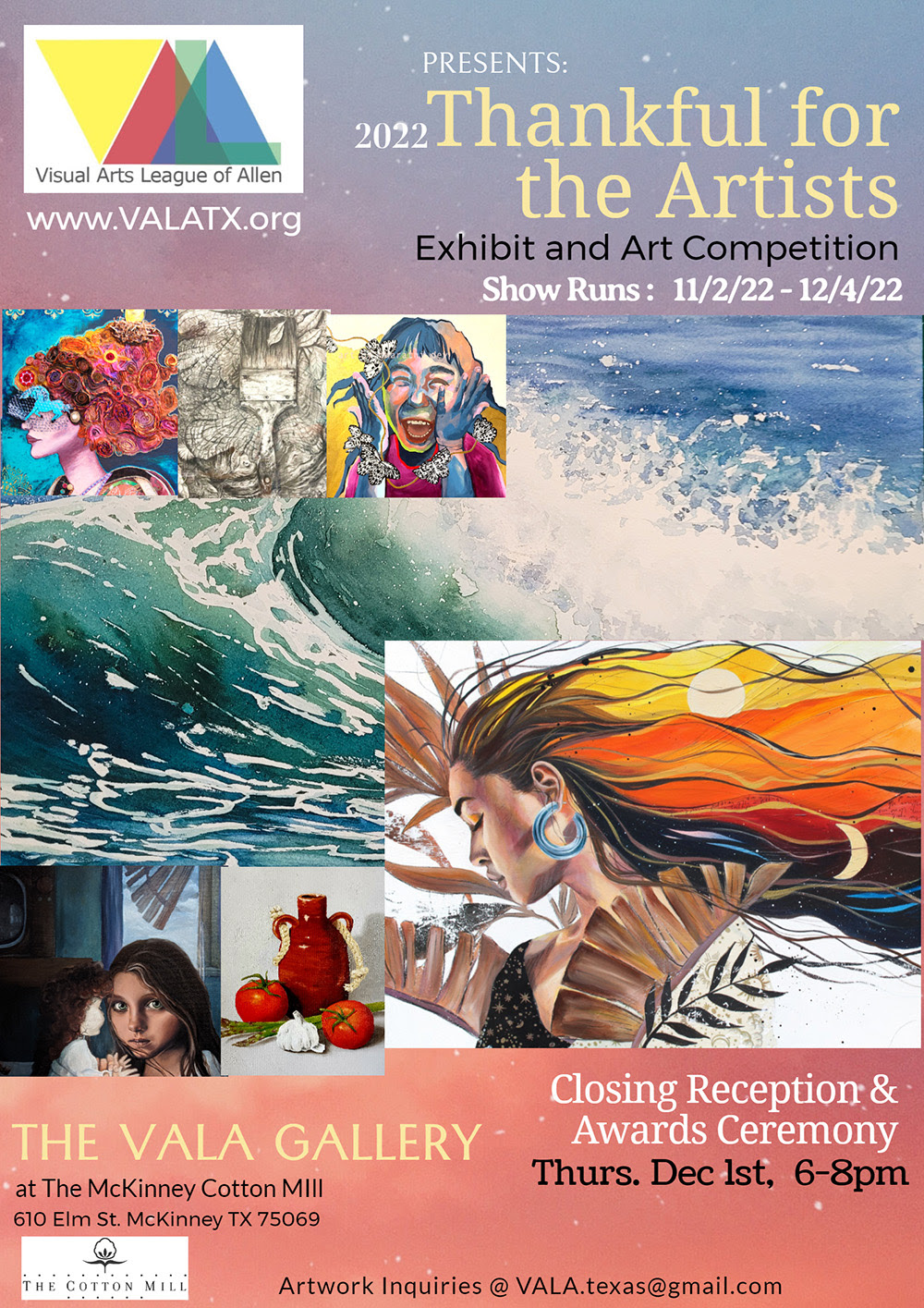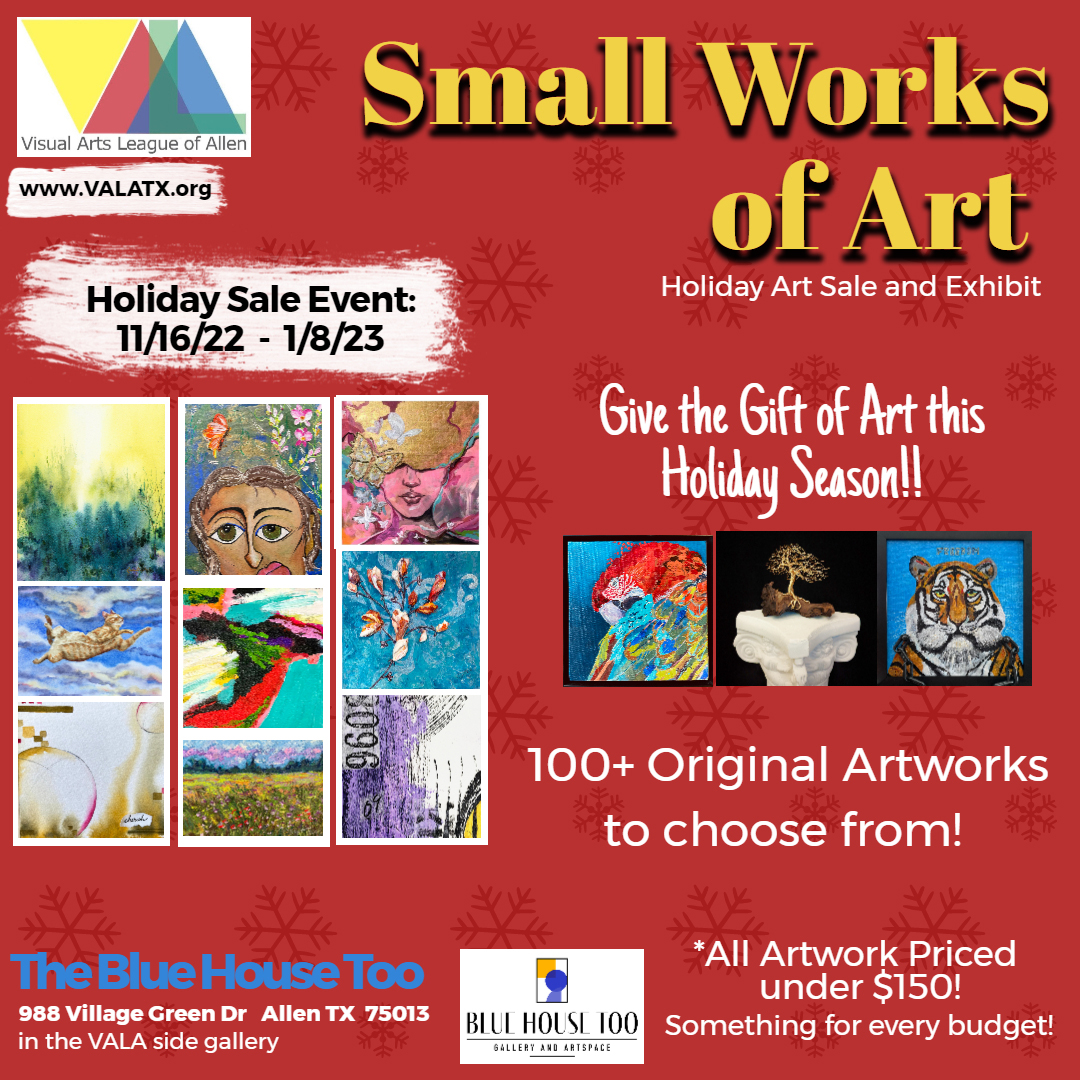 Blue House Too Art Gallery
988 Village Green Drive